French Open 2015: day six – live!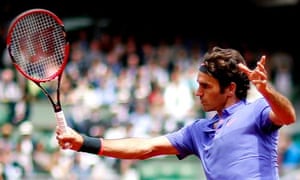 Angelique Kerber wallops a forehand down the line and seals the first set against Garbine Muguruza. She takes it 6-4.
Dzumhur is muttering darkly under his breath after a piece of Federer magic belatedly seals the second set. Federer quickly carved out two break points. Dzumhur played the first of them positively and arrowed a forehand into the corner and loped to the net – only for Federer to stoop down low, reach to his left and then, with the ball almost behind him, he flicked a wondrous backhand from left to right, past a flabberghasted Dzumhur. One from the squash court. Federer leads 6-4, 6-3.
Dzumhur, playing some sprightly and courageous tennis, finally breaks! Having wasted four break points in this second set, he finally puts a dent in his opponent when Federer was serving for a two-set lead and claws back one of those breaks. Federer still leads 5-3, though.
On Court 2, Angelique Kerber has just broken for a 4-3 lead in the first set against Garbine Muguruza.
Steve Johnson was just your average guy … until an accident with a radioactive tennis ball turned him into … Tennis Guy!
On Court 1, Stanislas Wawrinka will shortly be duking it out with the USA's Steve Johnson, who in another life could have been the alias of an all-action Marvel superhero called Tennis Guy! Marvel at the Amazing Adventures of Tennis Guy!
More opportunities on the Federer serve for Dzumhur; more wasted opportunities. Federer saves a break point and holds to lead 3-1.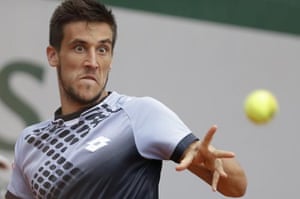 On Suzanne Lenglen, Nicolas Mahut is lobbing missiles at Gilles Simon and he wins a second-set tie-break 8-6 to level their match. Zut alors!
Dzumhur briefly locates the smallest chink in the Federer armour, earning two break points, but he can't take them and eventually loses the game. Which is a problem, because he's already been broken in this second set. Federer leads 6-4, 2-0.
What do we think of Federer's purple shirt and pink shorts combo? I like it. Maybe someone from the fashion desk is reading. If so, yes, this is my pitch for a weekly column.
Ah, and some Roger Federer chap – anyone got any info on him? – takes the first set 6-4 against Damir Dzumhur, who has not been overawed on Philippe Cjatrier.
I'm back! And as I arrive, Sabine Lisicki departs, beaten 6-3, 7-6 by Lucie Safarova. Lisicki will no doubt he happier on the green grass of Wimbledon next month.
Dzumhur pieces together a better service game, coming to the net and controlling some of the points, but misses a perfect chance to seal it with a wide volley. Eventually the Bosnian does enough, and Federer will have to serve out the first set. 5-4.
Likewise, Nicolas Mahut has broken back in the second set to level at 5-5. Gilles Simon won the first 6-2 on Suzanne-Lenglen.
Elsewhere Safarova has broken back to prevent Lisicki taking the second set, and now leads 6-5 with Lisicki to serve.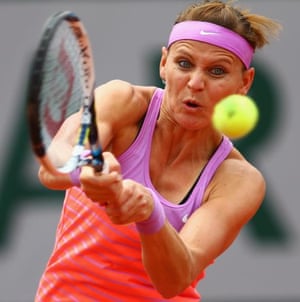 Dzumhur is getting on the end of Federer's serves only to see a flash of purply pink sprinting to the net. The 33-year-old is keeping the points short and it's working, as he moves 4-2 ahead in the first set.
Dzumhur is getting comfortable out on Philippe-Chatrier and tries a backhand slice to break Federer's rhythm, but the second seed bends out a forehand winner and another slice goes the same way a moment later for Federer to break: 2-3. Damir might discard the slice for a while.
On Court One Lisicki has responded well after losing the first set, a break up in the second against Safarova, who leads 6-3, 3-4.
Dzumhur has played 32 matches in his short professional career so far, none against an opponent of Federer's level, but the Bosnian starts well with an ace and a quick service game on the board. He pulls level at deuce in game two before a wayward return and a pinpoint Federer forehand end matters. 1-1.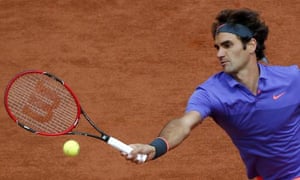 Roger Federer is on court with Damir Dzumhur, the Swiss is resplendent in purple and pink. Dzumhur will serve.
Hello. Gilles Simon has just hammered a couple of winners off either side to break Nicolas Mahut's serve and he's now a set and a break to the good at 6-2, 2-1.
Right, it's time for me to get some lunch. Roger Federer will be on court shortly and I'll leave you in the capable hands of my colleague Lawrence Ostlere for the time being.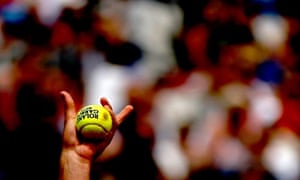 Sabine Lisicki does not like clay. Lucie Safarova takes the first set of their match 6-3. Meanwhile Gilles Simon is in command against Nicolas Mahut after claiming the first set of their match 6-2.
Ukraine's Elina Svitolina has beaten Germany's Annika Beck 6-3, 2-6, 6-4. On she goes.
Ekaterina Makarova is making short work of Elena Vesnina. The ninth seed takes the first set 6-2.
Alize Cornet is through! Mirjana Lucic-Baroni's French Open is finally over after she sends a backhand long on match point. Cornet collapses to the floor, a look of shock on her face. She probably can't quite believe she's managed to serve it out after the farce of her previous service game, but the 29th seed is into the fourth round after winning a wonderfully silly match 4-6, 6-3, 7-5.
Idea for a Buzzfeed article. Things that are worse than that Alize Cornet serve:
ALIZE CORNET'S SERVING CLINIC.
But Cornet breaks! Lucic-Baroni blinks first, shoving a forehand long, and Cornet will serve for the match again!
This is an astonishing end to the match. Cornet just had a break point, but Lucic-Baroni pummels a forehand down the line to save it. Deuce.
Alize Cornet just produced one of the worst second serves of all time to give Lucic-Baroni a break point. Seriously. I don't think I've ever seen a worse serve than that from a professional player. That wasn't a miss, it was a complete shortcircuit. Serving into the deuce court, she got herself in an awful tangle and the ball wonked horribly off her racquet and off in completely the wrong direction, off to the right instead of the net, and landed apologetically in the net. She took her eye off the ball there, literally and figuratively. From there, Lucic-Baroni breaks to force it to 5-5.
And momentum in tennis can shift so quickly. Lucic-Baroni had chances to break Cornet in the previous and now, serving, a backhand catches the wind and zips wide to give Cornet a 15-40 lead. Two break points. The volume rises and Lucic-Baroni cracks. She goes for break with a forehand but gives it a little too much oomph. Oomph overload! The ball skids well wide and Cornet breaks for a 5-4 lead! She'll serve for the match and a place in the fourth round.
Cornet pumps her fist. The French fans cheer. She's held. It's 4-4 in the third and final set.
What a shot from Cornet! Facing a break point at 4-3 down, she hits a pearler of a forehand pass down the line and Lucic-Baroni can only stab a low volley into the net. She's not out of the woods yet, though. This is a gripping match.
Away from Philippe Chatrier, a few matches are just getting underway. On Suzanne Lenglen, an all-French bout between Nicolas Mahut and equality's Gilles Simon. On Court 1, Lucie Safarova, the 13th seed, has an early 2-0 lead against Sabine Lisicki, the 20th seed and on Court 2, the ninth seed, Ekaterina Makarova, has broken early against her fellow Russian, Elena Vesnina.
What's happening below the line?
He has a pretty good draw here actually and it's Federer, so you can't rule anything out, but it's hard to see him beating Djokovic in the final. Obviously he knows how to win at Wimbledon – again, though, I think he's reliant on someone else knocking Djokovic out.
A break apiece at the start of the third set between Cornet and Lucic-Baroni. Cornet had the early advantage, but Lucic-Baroni claws her way back into the set with some spectacular hitting, a fine backhand winner down the line on break point reeling her French opponent in. It's 2-2 and I wouldn't like to predict which way this one is going to go.
Farewell, Lukas Rosol. He's out, beaten 6-4, 6-4, 6-4 in crisp, clean style by Teymuraz Gabashvili and can get on with thinking about how he's going to annoy Rafael Nadal at Wimbledon this year. He got on his nerves last year by knocking his water bottle over. How about messing with his towels this year?
Berloq forces his way to 30-all, but Gasquet knuckles down and slams a forehand into the corner to earn a match point. Berloq tumbles to the floor, but he gets up and dusts himself down. Has he got anything left in the tank? He certainly gives it his all in a lengthy, cagey, see-sawing rally, but eventually Gasquet unloads with a forehand and then steps forward to put away a neat backhand volley. That's it. Gasquet is through to the third round. He wins 3-6, 6-3, 6-1, 4-6, 6-1, the unpredictable blighter.
Richard Gasquet is serving for the match. He's 5-1 up in the fifth. Still think he could lose it from here.
Alize Cornet levels it up against Lucic-Baroni, winning the second set 6-3. The third set should be a cracker over on Philippe-Chatrier.
Rafael Nadal's old mate, Lukas Rosol, is in action. But he's two sets down against Russia's Teymuraz Gabashvili.
Richard Gasquet: so much imagination, so much swagger, so much skill. So underwhelming. He's a delight to watch but he's only ever flirted with the idea of making the most of his talent – semi-finals at Wimbledon in 2007 and the US Open in 2011 are the best he's managed in his grand slam career. Maybe he's playing in the wrong era. In another age, when they played with wooden racquets perhaps, he might have had the game to rule.
Now, though? He can't match the physical power of Andy Murray, Novak Djokovic or Rafael Nadal, while there have been too many times when he was wilted in the face of pressure (I'm thinking of the way he twice collapsed from two sets up against Andy Murray, first at Wimbledon in 2008 and then at Roland Garros in 2011).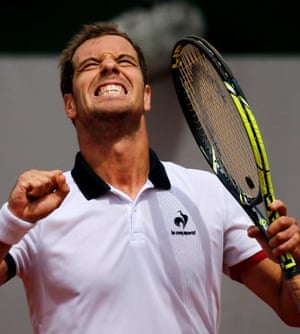 Anyway, what's he up to here? Let's see. His match against Carlos Berloq was held over from last night. They're in the fifth set. And Gasquet has the break! He's 3-0 up in the decider. Surely the 20th seed can't throw it away from here?
Morning! There's no time for a preamble today. I've arrived late too work. Don't tell my bosses! They don't read this stuff, so we're absolutely fine, as long as no one snitches. Good? Okay. Let's go. What's happening? Alize Cornet is fighting back against the remarkable Mirjana Lucic-Baroni after losing the first set 6-4. Cornet leads 4-2 in the second set. Once this is done, Roger Federer plays the unheralded Bosnian Damir Dzumhur.
This entry passed through the Full-Text RSS service – if this is your content and you're reading it on someone else's site, please read the FAQ at fivefilters.org/content-only/faq.php#publishers.
You may also like...