LeBron passes Wilkins for 12th on scoring list
Early on in Thursday night's game against the Brooklyn Nets, LeBron James cut across the lane, received a pass from Matthew Dellavedova, was fouled and finished the baseline shot. It looked like just another bucket for LeBron, but his fourth and fifth points of the game moved him ahead of Dominique Wilkins for 12th on the all-time scoring list. James would finish with 24 points in the Cleveland Cavaliers' 107-87 victory, which gives him 26,689 points for his career.
LeBron is in his 13th season in the NBA. Wilkins played 15 years, tallying the majority of those points for the Atlanta Hawks. His 26,668 points put him 216 points ahead of Tim Duncan, who is 14th on the all-time scoring list. Here's the bucket that put LeBron ahead of Nique.
There was a 10-year stretch in which Wilkins averaged 28 points on 46.4 percent from the field. Twice he broke 30 points per game and he led the NBA in scoring in 1985-86 with 30.3 points per game. His career high was 30.7. LeBron's best 10-year stretch puts him just above Wilkins at 28.2 points per game on 50.4 percent from the field. James has also broken the 30-point barrier twice. His career best is 31.4 and he led the NBA in 2007-08 with 30 per game.
The NBA, assuming LeBron could break four points in Thursday's game, put together a highlight reel of LeBron's best dunks in games and Nique's best dunks in games for a fun little showdown.
Next up on the all-time scoring list for LeBron is Oscar Robertson. He's 21 points behind the Big O for 11th on the all-time list and 275 points behind Hakeem Olajuwon to crack the top 10. LeBron would need to play the rest of the games this season (seven remaining) and score 39 points per game to pass Olajuwon this season.
At his current pace (scoring roughly 1,750 points every season for the next three seasons before a big potential dip in production), LeBron would be 34 years old and have approximately 31,939 points. That would move him ahead of Olajuwon, Elvin Hayes, Moses Malone, Shaquille O'Neal, Dirk Nowitzki and Wilt Chamberlain. He would need another relatively big season (playing 70 games and scoring about 21 points each night) to surpass Michael Jordan and Kobe Bryant. That would put him third behind Karl Malone and Kareem Abdul-Jabbar.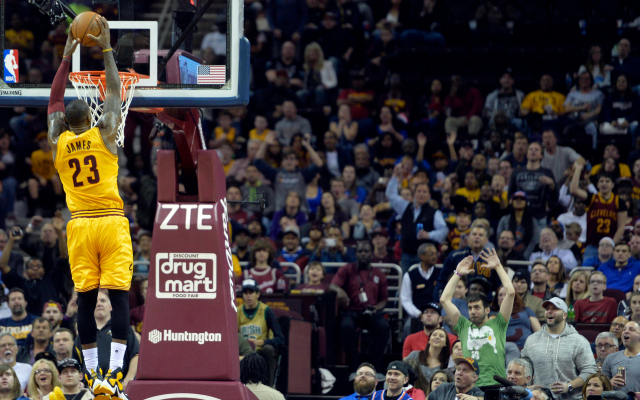 LeBron James is now 12th on the NBA's all-time scoring list. (USATSI)
You may also like...