NBA Free Agency: How Derrick Rose fits with the Cleveland Cavaliers and LeBron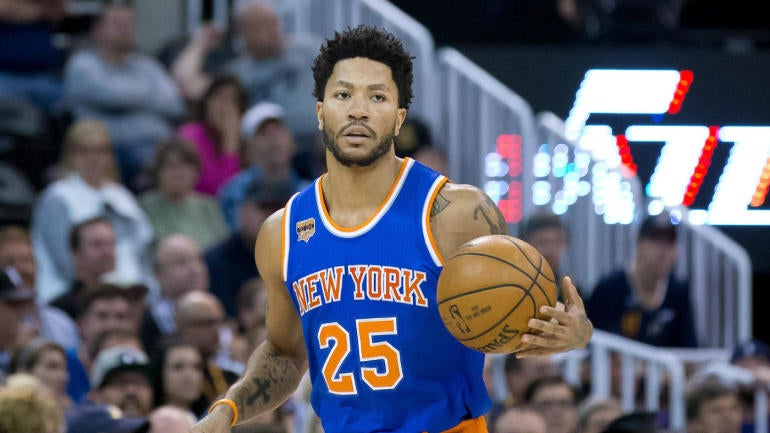 In 2011, Derrick Rose was arguably the best basketball player in the world. Few were going to go that far, but it was on the table. Rose had gone from phenom prospect, to explosive rookie, to leading an upstart Bulls team vs. the mighty Celtics in 2009, to winning MVP in 2011 with the No. 1 seed. Everything had gone Rose's way. 
And then, it all fell apart. 
LeBron James and his Heat viciously crushed Rose's Bulls after Chicago won Game 1 of the 2011 Eastern Conference finals, tearing them apart in four straight. The following season, Rose was plagued by minor injuries, part of the cost of the high minutes and workload he shouldered under Tom Thibodeau. Then came The Injury, that moment vs. the Sixers when his leg buckled, suffering what doctors would later describe as "traumatic."
Rose never recovered. He came back, suffered a torn meniscus, came back, struggled with more injuries. Rose would get to where he could finish the season, but everyone who watched him before and after the injuries knows, he wasn't the same. 
On media day in 2015, Rose spoke to reporters and said that he was looking for a big payday for his next contract. He was traded the following June. In January, it was reported that he was seeking a max contract. Now he has taken a one-year veteran minimum deal with the Cleveland Cavaliers. 
There are steeper falls in the NBA. Ask Stephon Marbury. But Rose is still stunningly far from that moment six years ago. 
How will he adapt to the Cavaliers? Much of this depends on what will occur with the Kyrie Irving situation. But for now, let's take a look at how Rose fits with the Cavaliers and LeBron James, specifically outside the context of the Irving situation. 
SECONDARY PLAYMAKER
LeBron James complained for most of last season about not having a secondary playmaker.
He still does not have a secondary playmaker.
Rose is an offensive weapon, and surprisingly, still a pretty good one, with the ball. He was in the 74th percentile last season in the pick and roll as a scorer. Maybe most surprisingly, he's still very good at finishing, even with his diminished explosiveness.
What's interesting with Rose is that he is such a radical departure from the kinds of players the Cavaliers have targeted the past few years. Channing Frye, Deron Williams, etc. have all been spot-up weapons to surround James with, to maximize the Cavs' shooting ability. That approach has worked to great success; the Cavaliers have been one of the best 3-point shooting teams in the sport's history the past few seasons.
Rose is the opposite of this.
He shot 21.7 percent from 3-point range last season, and finished in the 20th percentile on spot-up plays, which include drives (via Synergy Sports). Basically, if he doesn't have the ball in his hands, he struggles. He shot 31 percent on catch-and-shoot jumpers. But put the ball in his hands, and all of a sudden he can knock down the jumper, making 45 percent of those shots, good for the 78th percentile.
Now, this can be effective in Cleveland, where he would have better spot-up weapons to kick to than he had in New York or Chicago. But he has to be willing and able to make that pass, and that has been an issue. 
Regardless of whether Irving is traded or just off the floor when Rose is on the court, Rose will effectively be Irving without range. Irving had a substantially higher assist percentage and assist opportunities per game last season. Either way, neither one was a dynamic creator for others.
So much of this comes down to how you define "playmaker." Can Rose create individual offense, separate of James (and/or Irving)? Yes. Can he help the offense function in an optimum way? That's tougher to see.
The biggest issue for Cleveland's offense last season was that it dropped by 13 points per 100 possessions without James on the floor. Will Rose soften that blow? It's unlikely, but he does give it a singular scoring threat which, if maximized, could be effective for short stretches, which is all Cleveland really needs.
SIMILAR DEFENSIVE CONCERNS
The bigger issue is that Rose's defense is a mixed bag on a team that is one big mixed bag with a hole in the bottom of it.
On-ball he struggles with mobility, but that's far from an individual issue. Off-ball he tends to fall asleep, but that's also pretty typical for guards with his usage. But there are times when he's not as plugged in, and he winds up being a liability about as often as he's a strength.
In that regard, he's much like Irving. 
But for a team that is trying to improve on the sizable gap between what they have and the challenge the Warriors present, Rose, like Calderon and Jeff Green, the Cavs' other offseason additions, doesn't help them there. The defense won't be better with Rose on board. The Knicks' defense was five points worse per 100 possessions. But there's also a chance with the Cavaliers it will be roughly the same.
MOST VALUABLE DYNAMIC
Rose has to have been humbled by the way this has gone down. He has gone from being a franchise player to an afterthought, a player who literally dwindled on the market with no real options. 
Adjusting might be difficult, but it also might be freeing. The Cavaliers know what they're getting into with Rose, they know what kind of player he is and they'll put him in a position to succeed. That has been the Cavaliers' central issue. They've put players like J.R. Smith, Richard Jefferson, even Irving himself in positions to succeed. Their putting the team in the best position to succeed is the hard part, and that continues with Rose, even if it's at a discount price. 
Rose was a low-cost investment for a team with minimal options. How he fits with the Cavs won't determine whether they win the title, but it will decide much of how the rest of Rose's remaining NBA career will go.
You may also like...