NFL Week 1 scores, schedule, highlights, updates: David Johnson injures wrist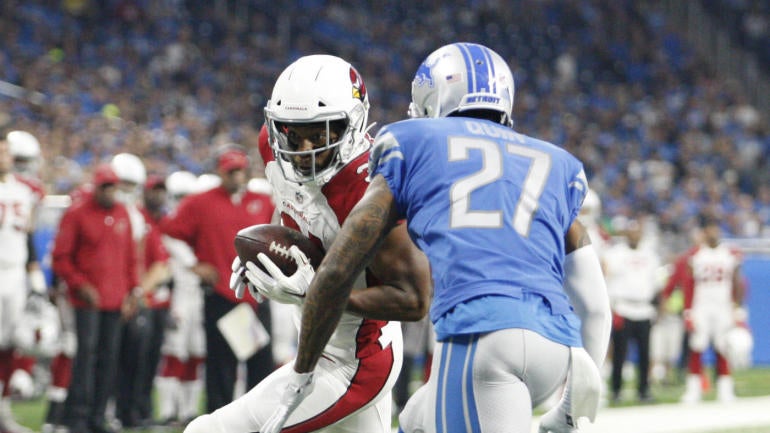 The first NFL Sunday of the season is here. We'll keep you updated on all the news and highlights you need to know here throughout the day, and you can follow along live with any and all of Sunday's games via the GameTracker links below.
Scores and schedule
Thursday
Kansas City Chiefs 42, New England Patriots 27 (Takeaways)
Sunday
Oakland Raiders  26,  Tennessee Titans  16 (box score)
Baltimore Ravens  20,  Cincinnati Bengals  0 (box score)
Pittsburgh Steelers 21, Cleveland Browns  18 (box score)
Jacksonville Jaguars  29,  Houston Texans  7 (box score)
Buffalo Bills  21, New York Jets 12 (box score)
Detroit Lions  35, Arizona Cardinals 23 (box score)
Atlanta Falcons  23,  Chicago Bears  17 (box score)
Philadelphia Eagles 30, Washington Redskins  17 (box score)
Tampa Bay Buccaneers at Miami Dolphins , moved to Week 11
Los Angeles Rams  46, Indianapolis Colts 9 (box score)
Carolina Panthers  23,  San Francisco 49ers  3 (box score)
Green Bay Packers  17, Seattle Seahawks 9 (box score)
Dallas Cowboys  19, New York Giants 3 (box score)
Monday
New Orleans Saints at Minnesota Vikings , 7:10 p.m. ET on ESPN (GameTracker)
Los Angeles Chargers at Denver Broncos , 10:20 p.m. ET on ESPN (GameTracker)
How to watch on TV, stream
PIT-CLE | OAK-TEN | BAL-CIN | IND-LAR | JAC-HOU | NYJ-BUF
Streaming:fuboTV (Try for free)
David Johnson among key Week 1 injuries

David Johnson was the No. 1 overall pick in plenty of Fantasy leagues this preseason, but unfortunately, he wasn't even able to complete the first game of the season before getting injured. Johnson totaled 91 yards on 17 touches, mostly through the air, before suffering a wrist injury in the third quarter. He did not return as the Cardinals fell to the Lions, 35-23. Kerwynn Williams served as the team's primary running back for the remainder of the game.
Kevin White has struggled to stay healthy ever since the Bears made him a top-10 pick three years ago. It took one week for him to potentially be shelved for the 2017 season. According to ESPN.com, the fear is White broke his collarbone in the Bears' loss to the Falcons and will have to undergo season-ending surgery. You can read more about the injury here.
The Jaguars' season got off to an awful start against the Texans when  Allen Robinson  suffered a non-contact injury to his knee after making his first catch of the season. The Jaguars ruled Robinson out for the rest of the game with about five minutes left in the first quarter. You can read more about the injury to the receiver here.
Ravens running back  Danny Woodhead  had to be carted to the locker room after suffering a hamstring injury in the first quarter of his team's game against the Bengals. He's been ruled doubtful to return. Woodhead made three catches for 33 yards and gained four yards on his only carry before going down.
The Eagles fortified their secondary in August by trading for  Ronald Darby  as part of the Bills' roster rebuild, and he was expected to be the team's No. 1 corner moving forward. Unfortunately, he suffered a non-contact ankle injury and had to be carted to the locker room. We have more about the key injury here.
Catch of the week? Easily Beasley
Cole Beasley led the Cowboys in receptions last year, and this year he leads the NFL in how-did-he-do-that catches. On Sunday against the Giants, Beasley managed to keep his feet in bounds on a juggling catch near the sideline that he ultimately made with one hand over his shoulder. How? Check out the highlight here.
Colts beat so bad Pagano confused by who did it
The Colts spent much of the first half of their game against the Rams getting completely demolished, but one highlight should have been a touchdown from  Marlon Mack , which was ruled short of the goal line. However, coach Chuck Pagano refused to use a challenge to call for an official review, and the Colts were subsequently unable to pound the ball into the end zone, settling for a field goal. You can check out the would-be TD here.
If that non-challenge was confusing, what came after the game was even more so. Pagano in his postgame presser thought his team just got walloped by the 49ers. You can see the clip of his confusion here.
Lane ejected after controversial flags
The Seahawks faced a tough task Sunday, marching into Lambeau and getting a win over the Packers. They had what appeared to be a huge defensive touchdown negated due to two flags that both were arguably poor calls. Not only that, but Seattle lost No. 2 cornerback Jeremy Lane on one of the penalties due to an ejection. You can find out more about the entire sequence here.
Rawls inactive for Seahawks

Thomas Rawls dealt with an ankle issue throughout the preseason and his status for Week 1′s huge matchup against the Packers was up in the air heading into Sunday. With Seattle's inactives now out, we know that Rawls is going to miss the game. Eddie Lacy  serves as the team's starter, but the Packers can expect to see plenty of C.J. Prosise and Chris Carson as well.
Beast Mode is back
As you probably know, Marshawn Lynch is suiting up for the hometown Raiders this season, and he flashed vintage Beast Mode in running over excellent Titans defender Jurrell Casey in his debut. You can check out the play here.
Texans turn to Watson in second half
Texans coach Bill O'Brien showed in 2015 that he's willing to have a quick hook at the quarterback position, going to Ryan Mallett after halftime after an ugly first half from Brian Hoyer in Week 1.
On Sunday, O'Brien was at it again, inserting rookie Deshaun Watson after halftime with his team down 19-0 to the Jaguars. All Watson did was engineer a touchdown drive while escaping pressure and firing completions to his receivers. You can check out Watson's magic here.
Bears forget to cover Falcons TE on long TD
If you leave a receiver totally uncovered, Matt Ryan is going to find him. That's exactly what the Bears did in Sunday's game, and it resulted in an 88-yard touchdown that also featured tight end Austin Hooper unleashing a nasty stiff arm before reaching the end zone. You can check out the highlight here.
Thompson busts out Madden spin
Redskins running back Chris Thompson gave his team the lead in the first half against the Eagles on Sunday by catching a 29-yard touchdown, and he did it by busting out a textbook Madden spin move to elude several Eagles defenders.
Check out Thompson timing his button mash perfectly:
The Eagles were able to regain the lead later in the half and take a 16-14 lead into halftime.
Campbell can't be stopped in Jaguars debut

The Jaguars shelled out quite a bit of money to bring free-agent defensive lineman Calais Campbell into the fold this offseason. He went about trying to earn his entire deal in his debut, setting the franchise record for sacks in the first half alone. You can read more about his big day here.
Stafford celebrates new deal with pick-six
Lions quarterback Matthew Stafford signed the biggest deal ever for an NFL player before the season, landing a $ 135 million contract extension. The team is obviously expecting big things from their franchise quarterback for the foreseeable future.
But on Sunday, Stafford's season didn't get out to the start Lions fans were hoping, as his first pass attempt was intercepted and returned for a pick-six. You can check out the play and more on Stafford here.
Browns go full Browns early vs. Steelers
You could forgive Browns fans for being a bit optimistic heading into 2017 considering they have a talented rookie quarterback under center, an improved offensive line and a lot of young quality players on defense.
And then, the Browns immediately reverted to the team we know and sometimes love in the first quarter against the Steelers, going backwards on offense before having a punt blocked and recovered for a touchdown by Pittsburgh. You can
Cooper turns into Beast Mode on TD
Raiders receiver Amari Cooper wasn't able to score a red-zone touchdown in 2016, but he wasn't going to be denied in the first quarter against the Titans, dragging players into the end zone to score the team's first touchdown of the season.
It wasn't all positive for Cooper in the red zone in the first half of Sunday's game though. You can check out his TD and his subsequent drops here.
Tags: DavidhighlightsinjuresJohnsonschedulescoresupdatesWeekWrist
You may also like...