Pick Six: Looking to stay hot with Ohio State-Oklahoma and Clemson-Auburn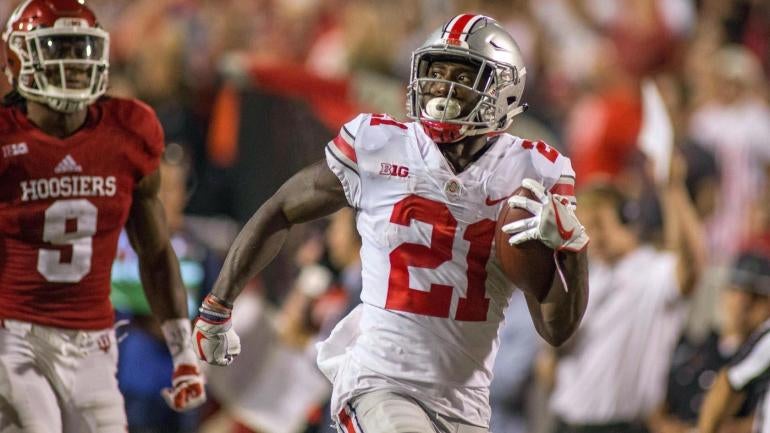 The opening week of the season was terrific to Pick Six, as I went 5-1 overall, nailing everything but my Underdog of the Week. While I'm happy about the results, I don't want to get too pleased with myself. That would lead to complacency, and complacency leads to losses.
I'm not here to lose. Call me Mike Singletary because I want winners. This week, I have six new games for you to pick, and I'm aiming to go 6-0.
Games of the week
No. 2 Ohio State Buckeyes (-7.5) vs. No. 5 Oklahoma Sooners : Since I never want to be anything but completely honest with you, I feel it's important to tell you that if this game weren't between two top five teams, I wouldn't wouldn't include it in Pick Six this week. I just don't have a great feeling about any of my options here.
In the end, though, I lean toward Ohio State for a couple of reasons. First and foremost, the Buckeyes won this game by 21 points last season when it was in Norman, Oklahoma. Yes, the teams are different this year, but the Buckeyes are much stronger on the defensive line than I believe the Sooners to be. So even if Oklahoma has a clear advantage at quarterback, I believe Ohio State is probably stronger everywhere else. Ohio State 35, Oklahoma 27
No. 3 Clemson Tigers (-5) vs. No. 13 Auburn Tigers : Clemson struggled to put away Auburn at Jordan-Hare last season and that was when it had Deshaun Watson . That's obviously not the case this year as Watson has been replaced by Kelly Bryant , but this year the game is being played in Death Valley.
Clemson still has a monster defensive line as well, one that won't allow Auburn to find as much space in the run game as it did against Georgia Southern Eagles last week. On the flip side, Auburn's defense won't be as simple for Clemson to solve as Kent State Golden Flashes was. Still, Clemson is an immensely talented team, and I expect that talent to win out over 60 minutes. So I'm laying the points with Clemson, and if you want to take the under in this one, that's not a bad play either. Clemson 27, Auburn 20
Lock of the week
New Mexico Lobos (-7) vs. New Mexico State Aggies : Rolling with an option team in Navy Midshipmen worked well for me last week, and while it isn't an intentional decision, I think New Mexico will do the same for me again this week. I expect the Lobos to get an early lead in this one and then just slowly build upon it over 60 minutes. New Mexico 45, New Mexico State 20
Underdog of the week
Nebraska Cornhuskers (+14) at Oregon Ducks : This line originally opened with Oregon as a 10-point favorite, and it made a lot of sense. It then quickly moved to 14 points, and in my opinion, that's just too much. These two teams are just too similar for me to justify giving two touchdowns to the Ducks. Oregon 38, Nebraska 27
Over of the week
San Diego State Aztecs at Arizona State Sun Devils (Over 55): As somebody who has stayed up until the wee hours of the morning watching plenty of Arizona State games, I can't believe this number is at only 55. Personally, I'd peg this as a 60, so I love the over here. Arizona State 38, San Diego State 24
Under of the week
Wake Forest Demon Deacons at Boston College Eagles (Under 47): Hammer it! Hammer it hard! Here's a quick history lesson for you on this game. These two teams are in the same division, so they play every single season. The last time they played a game that ended with more than 47 points scored was a 27-24 overtime victory for Boston College … in 2009. Since then, this game has featured an average of 33.1 points per contest. Hammer that under now before the books come to their senses. Boston College 24, Wake Forest 14
Good luck this week, and don't forget to Trust The Process. 
| | | |
| --- | --- | --- |
| | Last Week | 2017 Overall |
| Games of the week | 2-0 | 2-0 |
| Lock of the week | 1-0 | 1-0 |
| Underdog of the week | 0-1 | 0-1 |
| Over of the week | 1-0 | 1-0 |
| Under of the week | 1-0 | 1-0 |
| Overall | 5-1 | 5-1 |
You may also like...