WWE Raw results, recap: SummerSlam go-home show includes a big title change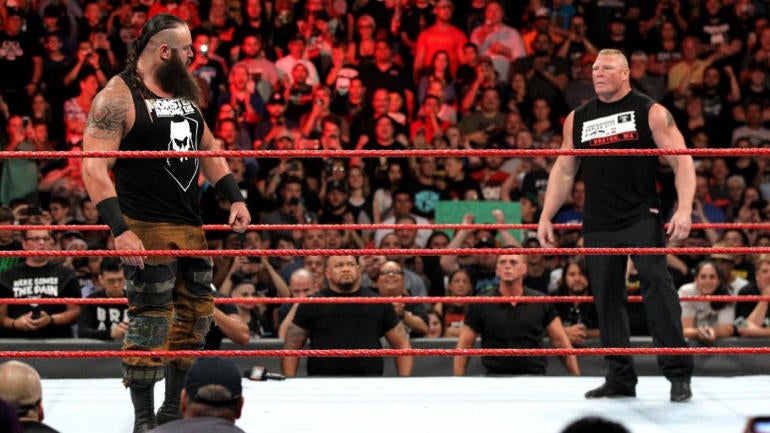 It hasn't been often in 2017 that WWE has produced a true go-home show that left you wanting more heading into a pay-per-view. So consider this week's episode of Raw a success in that regard as it whet the appetite for the company's first joint-brand show since WrestleMania in April.  
The fact that the build to Sunday's SummerSlam card in Brooklyn, New York, hasn't exactly been red-hot played a big part in why Monday's episode felt so good as WWE to push its "SummerSlam comes early" narrative with important matches, a title change and just enough of a tease toward Sunday's main event without giving away too much. 
Brock Lesnar and Braun Strowman closed the episode in a brawl that needed a full security team and half the locker room to break apart. But before then, Raw produced plenty of highlights that were equal to the excitement of the show's finish.  
Former Shield teammates Dean Ambrose and Seth Rollins officially joined forces and were awarded with a tag team title shot on Sunday. Meanwhile, Sasha Banks sent her hometown fans in Boston home happy by securing her own title opportunity against Alexa Bliss by defeating Nia Jax.  
The cruiserweight title changed hands as Akira Tozawa upset Neville (setting up a mandatory rematch at SummerSlam), and Bray Wyatt escalated matters significantly in his feud with Finn Balor by pouring a bucket of blood over his head and summoning "The Demon King."  
WWE Raw results 
In the ring — Seth Rollins, Dean Ambrose, Sheamus and Cesaro: Attempts at a mini-Shield reunion got off to a rough start after Ambrose called out Rollins and ordered him to the ring. Rollins countered by calling Ambrose a liar and offering once more to "let bygones be bygones" by extending his fist. Ambrose refused. Rollins admitted sometimes having trouble trusting himself before unleashing a passionate promo. Ambrose reached out his fist but this time Rollins refused. They brawled around the ring in a brotherly fashion. Out came Sheamus & Cesaro to attack. The babyfaces eventually battled back to clear the ring and celebrate. After both showed hesitancy, they touched fists to formaly reunite. General manage Kurt Angle came out to book their tag team title shot against Sheamus & Cesaro at SummerSlam. 
This played out as predictable as you might imagine, but the incredible roar from the crowd simply can't be wrong. After a long tease, seeing Rollins and Ambrose back together just felt right and the payoff was worth it.
Sasha Banks def. Nia Jax via submission  to become No. 1 contender: In front of a passionate home crowd in Boston, Banks secured a shot at a potential fourth WWE women's championship reign with a match against Alexa Bliss at SummerSlam. With Bliss watching from a lifeguard chair outside the ring, Jax dominated this three-segment match with her physicality. Jax swung Banks head-first into the barricade wall and landed a pair of Samoan Drops. Banks ultimately rallied and after her first attempt at a Banks Statement was broken, Banks countered with a tornado DDT. She instantly applied another Banks Statement and forced Jax to tap out.  
Not only did this one have pay-per-view intensity, Bayley's shoulder injury (which forced her out of SummerSlam) ended up being a blessing in disguise for WWE. Bliss-Banks is the best match that can be made on the Raw women's side and is worthy of the showcase.
Backstage — Kurt Angle, The Hardy Boyz and The Miz: Angle was approached by The Hardyz, who referenced the injury to Scott Dawson that pulled The Revival from SummerSlam. The Miz and his Miztourage quickly interrupted and challenged Angle to make up last week when Brock Lesnar attacked them. After Angle booked a match between his son, Jason Jordan, and Curtis Axel, The Miz took exception and offered to swap himself in for Axel. Angle accepted.  
Backstage — Bray Wyatt and Finn Balor: An intense brawl between both was broken up by Angle and a group of referees. But despite Angle's plea that they wait for SummerSlam, the brawl continued. Angle jumped in to announce "SummerSlam is coming early" and booked a match for tonight.  
In the ring — Elias and R-Truth: Inside the ring, Elias insulted the Boston crowd during his song by calling Fenway Park a dump and railing against clam chowder. Out came R-Truth, who was instantly attacked before he could enter the ring. A swinging neck breaker from Elias followed before he picked up his guitar and slowly exited.  
In the ring — Big Cass, Enzo Amore and Big Show: With the shark cage lowered into the ring as a tease toward SummerSlam, Big Cass drew real heat from the crowd during his promo. Cass said his goal was to prove "that I am the big big man in the game today." Out came Amore, who tossed insults at Cass, followed by Big Show. Cass instantly knocked Amore off the ring apron. Luke Gallows and Karl Anderson then snuck up from behind to join Cass in taking out Big Show. The heels used a belt to tie around Big Show's right hand and slam the shark cage door against it before an extending stomping session.  
The beatdown on Big Show was intense enough to finally make us care for once during this underachieving angle. Meanwhile, the possibility of Cass joining some kind of heel faction with The Club could be the best thing that happens to the big man. 
Cruiserweight Championship — Akira Tozawa def. Neville (c) via pinfall to win the title: With Titus O'Neil in Tozawa's corner, the action was fast-paced and spot-heavy from the start. Tozawa hit a pair of suicide missile dives through the ropes, and Neville later countered a swanton attempt off the top rope by hitting a superplex. Late in the match, Tozawa rolled away from Neville's Red Arrow attempt and came right back with a diving senton to get the 1-2-3. O'Neil and Apollo Crews entered the ring to celebrate and lift Tozawa on their shoulders.  
Interesting choice to book title change on Raw, which played into Monday's constant refrain of "SummerSlam comes early." While it certainly felt anticlimactic to see Neville's impressive reign come to an end so unceremoniously on free TV, the fact that it was announced later in the night that he would be invoking his rematch clause on Sunday seemed to make up for it.
Backstage — Big Show and Enzo Amore: In the medical area, a doctor informed Big Show he has a broken hand. Amore told him to forget about SummerSlam, but an angry Show cut him off to say, "There's no way in hell I'm missing SummerSlam … I'm the Big Show, don't you dare forget who I am." 
Backstage — Emma and Mickie James: After Emma attempted to complain about a lack of opportunity, citing social media's reaction to Banks' win, James was quick to remind her one week ago that "you didn't get screwed over, you tapped out." Instead, James offered her a match later tonight and Emma accepted.  
Bray Wyatt def. Finn Balor via pinfall: The "SummerSlam comes early" theme continued with this match between top stars. In the end, Balor's attempt at his Coup de Grace finisher from the top rope was intercepted when he was tripped. Wyatt followed with a Sister Abigail to get the quick pin. Wyatt hit his finisher once more before standing over Balor and posing with his arms extended while yelling, "Follow the buzzards." After Wyatt's music hit and the lights briefly went out, Balor was seated unconscious in the corner and Wyatt stood in the center of the ring with a bucket. Wyatt gratuitously poured the red "acidic vicious fluid" over the head of Balor, who awkwardly awoke and rolled around the ring in horror. Later in the show, Balor left Angle's office still covered in blood but happy he was granted a rematch at SummerSlam. During an interview with Charly Caruso, Balor said, "Bray Wyatt's got his demons, but this Sunday, he's going to find out that I've got my demons, too."  
For as weird as this segment was in terms of the liquid Balor was coated in, this is exactly the right kind of booking to leave a lasting mark on a go-home show. The relative ease of Wyatt's victory mixed with his embarrassment of Balor should be enough to summon the full "Demon King" version of Balor (and his iconic entrance) at SummerSlam.
Mickie James def. Emma via pinfall: This brief back-and-forth match came to an abrupt finish when James connected with a Mick Kick to get the pinfall and quiet Emma's ambition.  
Jason Jordan def. The Miz via disqualification: Jordan got off to a hot start in this non-title match and appeared on the verge of winning until Curtis Axel and Bo Dallas entered the ring and administered a beating. The Hardy Boyz were quick to make a run-in and rescue as Jeff hit a Poetry in Motion on to Miz before Jordan landed a suplex. During the commercial break, Angle booked an impromptu six-man tag team match. 
The Hardy Boyz & Jason Jordan def. The Miz & the Miztourage via pinfall: In a long match that was nothing more than filler, a hot tag to Jeff Hardy and then Jordan cleared the ring of heels. Matt went on to hit a Twist of Fate on Dallas before Jeff followed with a beautiful swanton bomb for the 1-2-3.  
Confrontation — Brock Lesnar, Braun Strowman, Samoa Joe and Roman Reigns: The four men involved in Sunday's main event finally entered the same ring at the same time. First, Paul Heyman set the stage with a promo regarding his conspiracy theories by WWE against Lesnar and reiterated that "The Beast" would exit the company with a loss.  One-by-one Lesnar's opponents came out to share unpleasantries. Finally, Reigns entered the ring and instantly speared Joe. Braun followed with a power slam on Reigns to set up a staredown between Strowman and Lesnar. A rush of security guards hit the ring to break the two giants up. Eventually, both guys laid waste to one another before Angle sent out half the locker room to separate them. Both Strowman and Lesnar each broke free more than once before order was finally restored.  
Strong finish to cap the show by teasing Lesnar-Strowman without giving too much away. (And bonus points to the always great Heyman for somehow drawing babyface sympathy for Lesnar.) With that said, repeating the same spot over again from last month when Lesnar and Joe were held back by groups of security guards (and then the locker room) in the build to Great Balls of Fire felt nothing short of tired and uninspired.
You may also like...